To create pie charts and generate statistical data, you'll find this list of the best pie chart makers useful.
Pie charts are popular circular-shaped graphs used to visualize data. They are a critical component of business analysis and help in decision-making for different purposes. Today, there are a plethora of free online tools that take in your raw data and produce meaningful visualizations with minimal effort. Let's dive right in and see the pie chart makers you should consider.
What Is A Pie Chart?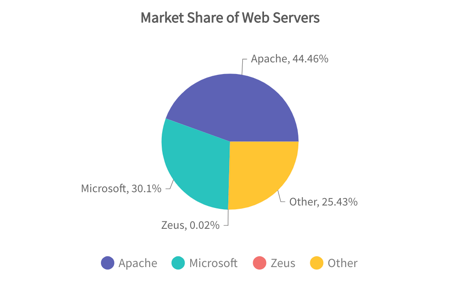 A pie chart is a circular-shaped chart created to demonstrate the part-whole relationship of data variables.
The chart is always rendered in the form of a circle with various slices that represent the categories. The entire circle of the pie chart visualizes the total quantity, while each section represents each variable (or category).
Also, each section's arc size and length showcase how much of the total quantity the category occupies.
Pie charts are an essential element of data-driven analysis. They can be created in minutes using pie chart makers and deployed to interpret data for various use cases.
When To Use A Pie Chart
Pie charts are usually appropriate for any scenario where you need to represent categorical variables as percentages or showcase individual sections as part of a whole quantity.
In this case, each categorical variable is represented as a section of the circle and adds up to the total quantity.
If this is not your situation, you might want to explore other chart types, such as column charts, bar charts, or line charts.
The Best Way To Use A Pie Chart
Here are some best practices you should follow when creating a pie chart to generate statistical data.
Use Annotations
Tiny fractions and proportions will be challenging to interpret from a pie chart.
This is why annotations and data labeling are best practices. You should add data labels to your sections and also create an icon legend where possible so your audience can smoothly understand your chart.
Slice Size & Order Matters
When creating pie charts, it's best to arrange the categories according to their contribution to the whole quantity.
You can do this by placing the largest slice at the top-right corner and arranging the rest in descending size order, from right to left.
Arranging the slices in your chart properly will make it easy for your audience to interpret.
Specify a Maximum Number Of Pie Slices
Pie charts with plenty of slices would be challenging for your audience to interpret.
When creating your pie chart, you should represent a minimal amount of categories in the circle. A good range has five to ten categories.
Use Less Distortions & 3D Visual Effects
Excessive 3D visual effects can distort your custom pie chart and make it less readable.
So you should completely avoid these distortions, and visual effects or ONLY use them when necessary.
Best Pie Chart Makers In 2022
Pie chart makers help you create a pie chart online with little effort.
Here's a list of the best ones you should consider:
FusionCharts
FusionCharts helps you create beautiful charts, graphs, and dashboards for your web or mobile projects.
The web-based application utilizes a programming language (JavaScript) to generate statistical data from beautiful, interactive pie charts.
Using FusionCharts, you can build easy-to-interpret pie charts in react native, angular, react, vue, and other JavaScript frameworks.
Plus, the application provides 100+ custom-built chart templates to help you get started quickly.
Whether you're building for mobile or web, you can always leverage ready-to-use pie chart templates (available with source code), plug in your data, customize and create your own.
FusionCharts is available to small and large businesses, and you can start creating pie charts with a free trial.
Pie Chart Maker by Designhill
Designhill's Pie Chart Maker is a free online tool that helps you create beautiful, custom pie charts in minutes.
The online pie chart maker offers a ton of layouts as well as customization options to create pie-doughnut charts, 3D pie charts, and others.
To get started, you only need to plug in your data variables. Then, edit the color, fonts, and photos.
Once that is done, the pie chart generator will generate a beautiful pie chart with sections with arch lengths corresponding to the variable represented.
That's it. No professional design skills are needed to use the tool.
Designhill's Pie Chart Maker is free to use.
Visme
Visme offers a free and easy-to-use tool dedicated to creating visually appealing, professional pie charts.
The pie chart generator allows you to generate pie charts in a few minutes. You can use several chart customization possibilities to make your visualization process as painless as possible.
Plus, you also get access to a library of attractive design templates to get off the ground fast.
To begin, you can plug in your project data manually. Or, if you've created a pie chart in Excel, you can simply import it into the Visme graph engine.
Then, add the data points, customize fonts or colors, and indicate data labels.
Thanks to its templates and drag-and-drop widgets, you don't need professional design skills to jumpstart.
Visme is free to use, and you can get started by signing up using your social media account.
RapidTables
RapidTables is an online pie chart maker available to generate statistical data.
It offers a straightforward process to rapidly create a simple pie chart and get going. This tool is best for you if you're on limited time.
One downside to using RapidTables is that it offers limited customization options and no pie chart templates.
To get started, choose the chart type you want to create, and enter your chart title, data labels, and data values. Then, draw the chart.
RapidTables is completely free to use and does not require you to sign up.
Visual Paradigm
Visual Paradigm is an online free chart maker that drives easy and seamless data visualization.
With this tool, you can edit any beautiful pie chart template in an intuitive spreadsheet editor and customize them to your desire.
Visual Paradigm allows you to make your chart beautiful by editing its fonts, colors, labels, and icon legend. Millions of stock photos and icons are available on its spreadsheet editor to spice up your design.
Visual Paradigm is free to use, and you can get started building pie charts with it in minutes.
Why Fusioncharts?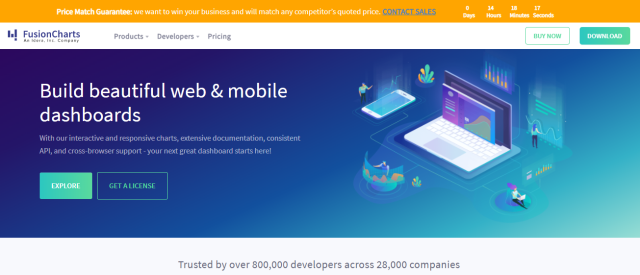 FusionCharts stands out for its dependability, simplicity, interaction, and customization.
The application offers you the right tools to build beautiful and interactive charts, graphs, and dashboards for the web or mobile.
Here are some reasons why 800,000+ developers use FusionCharts and why you should.
Supports 100+ Chart Types
FusionCharts works with over 100 interactive chart types and 2000+ data-driven maps.
The web application offers popular data charts such as Pie, Bar, Column, Line, and Area charts. And you get access to domain-specific charts such as Treemaps, Heatmaps, Gantt Charts, Marimekko Charts, Spider Charts, and Waterfall Charts.
Over 2000+ data-driven choropleth maps, which cover countries, counties, and even cities, are also available in FusionCharts.
Plenty of Customization Options
FusionCharts makes editing your chart and graphs easy thanks to its numerous customization possibilities.
Every theme in the application can be customized to its tiniest bits to achieve the modern look and feel you desire.
You can also customize elements on your pie charts, such as data labels, captions, axis labels, icon legends, and data points to suit your visual needs.
Supports Chart Interaction Features
FusionCharts make creating interactive and responsive charts and maps easy, so your audience can have a better, user-friendly experience.
The application supports interactivity features such as panning, zooming, scaling, and dragging.
Conclusion
In summary, pie charts are an important element of business analysis. They are an exciting way to communicate visually and illustrate data that add up to 100%.
Creating them has never been easier, thanks to several online pie chart makers: FusionCharts, Designhill, Visme, RapidTables, and Visual Paradigm.
Some of these online tools have free versions and support a lot of layouts, chart types, and desired features. That said, Fusioncharts rises above the herd to focus on meeting your project needs. Download a trial today to get started.