If you're looking for the best pie chart maker to visualize your data, you're at the right place. Pie charts are simple circular graphs with divisions to represent the part-whole relationship of your data. Businesses and organizations use them as a critical part of data analysis and to communicate visually to their audience. Creating a pie chart today is as easy as it gets, thanks to various free pie chart makers available online. You can create visually appealing pie charts in a few minutes using any of these tools. In this post, I'll explain when to use pie charts, the best practices, and the top pie chart makers to make a pie chart and represent your data.
What Is A Pie Chart?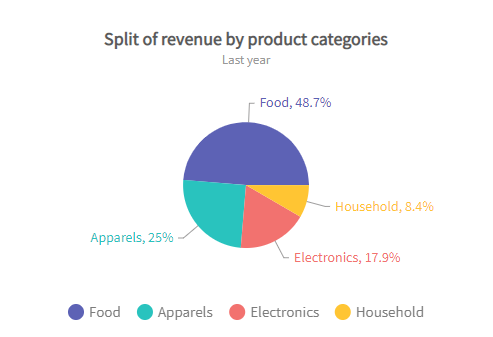 A pie chart is a circular-shaped chart created to visualize the part-whole relationship of data variables. Its main purpose is to demonstrate the distribution of a total quantity between various categorical variables using sections of a circle. In a pie chart, a single section of the circle represents each variable (or category), and the size of each section (both in terms of area and arc length) shows how much of the total quantity the category occupies. Pie charts are an essential element of data-driven business analysis. Moving forward, we'll look at when to use pie charts and awesome pie chart makers to create beautiful pie charts in less than a minute. Let's dive in!
When To Employ A Pie Chart
Pie charts are great for visually expressing a part-to-whole relationship. Generally, they should be used if your goal is to:
Illustrate the part-to-whole relationship of a data set
Compare the contribution of one segment to the total
Represent percentages or unique sections of a whole quantity
If this isn't the case, a pie chart might not be appropriate for the data presentation.
The Best Way To Use A Pie Chart
Some of the best practices to follow when creating and using a pie chart include:
Include Annotations
Apart from small fractions such as 1/2 (50%), 1/3 (33%), and 1/4 (25%), it is pretty tedious to understand proportions accurately from pie charts. This is essentially why adding data labels and annotations are best practices when creating pie charts. You want your audience to have the best experience when interpreting your data. So you need to label the sections appropriately with the values and also include an icon legend within the pie chart generator where possible. Doing this will reduce the cumbersome task of going back and forth to interpret the data.
Arrange The Slices By Size
Since a pie chart visualizes the contribution of each variable to the whole, it makes sense to arrange each slice according to its contribution to the whole. A typical pie chart arrangement goes from the largest to the smallest slice. To achieve this, place the largest piece in the top-right corner. And then, from right to left, arrange each section in descending order. This will be done according to size since each slice is proportional to its values, represented by the arc size. A well-arranged slice order will make it easier for your users to understand the chart.
Specify a Maximum Number Of Pie Slices
Nobody wants to interpret a pie chart with hundreds of sections. It would get cumbersome and challenging for your audience to read. So when creating a pie chart, ensure you represent a minimal amount of slices in the circle. There are several opinions on this, but a good range is five to ten categories. You should consider using a different chart type if you have more than ten categories.
Minimize Distortions & Unnecessary Visual Effects
When creating a pie chart for data visualization, ensure you add minimal distortions and visual effects. Every data variable must be appropriately proportional to its corresponding slice's areas, arc lengths, and angles. So adding 3D visual effects for aesthetics might distort the slices and overall charts. Most pie charts with these effects become difficult to interpret. So it's a best practice to add distortions and visual effects ONLY when necessary — or even completely avoid them.
Best Pie Chart Makers In 2022
Pie chart makers are tools that help you create pie chart chat online with minimal effort. Here's the list of the top pie chart makers you should consider:
FusionCharts
FusionCharts is a web-based application that helps you build beautiful charts and dashboards for your web or mobile projects. The platform uses JavaScript to convert your data into easy-to-interpret pie charts. You can create
pie charts in react native
, angular, react, and other frameworks. Whether mobile or web, the application offers over 100 pre-built pie chart templates in its library to get started. You can leverage any of the ready-to-use
pie doughnut chart
examples available with source code, edit with your data, customize it and create your own. With a low learning curve, you can build a pie chart with the online platform in under 15 minutes.
Pie Chart Maker by Designhill
Designhill offers a free online tool to create a personalized pie chart easily. The pie chart generator allows you to design a beautiful pie chart with slices based on the corresponding variable it represents. Designhill's Pie Chart Maker offers a ton of layouts that suit your needs. You can also customize color and fonts, use stock photos, or upload your own custom images. No professional design skills are needed to use the tool.
Visme
Another online tool dedicated to making visually appealing charts is Visme. The Visme graph engine was built to help you create stunning pie charts, infographics, diagrams, presentations, posters, and more in a few minutes. The free intuitive pie chart maker is easy to use and offers several customization possibilities to edit fonts, images, and more. Visme comes with various attractive design templates in its library. You can either create from scratch or customize the templates for your project. The pie chart templates can be customized using drag-and-drop widgets with zero restrictions. To get started, you need to sign up using your social media account to use the tool. You might not need a premium plan; its basic tier is sufficient.
RapidTables
RapidTables is a free pie chart maker available online. It's a great tool if you're on limited time and want to create a good pie chart and get going. The platform offers limited custom options and no chart design templates. You choose the chart type you want to create for your project, insert your data, and create your chart.
Visual Paradigm
Visual Paradigm is an online pie chart maker suited to business and commercial needs. The tool lets you edit a pie chart template, customize its images, fonts, or colors, and add your specifications.
Why FusionCharts?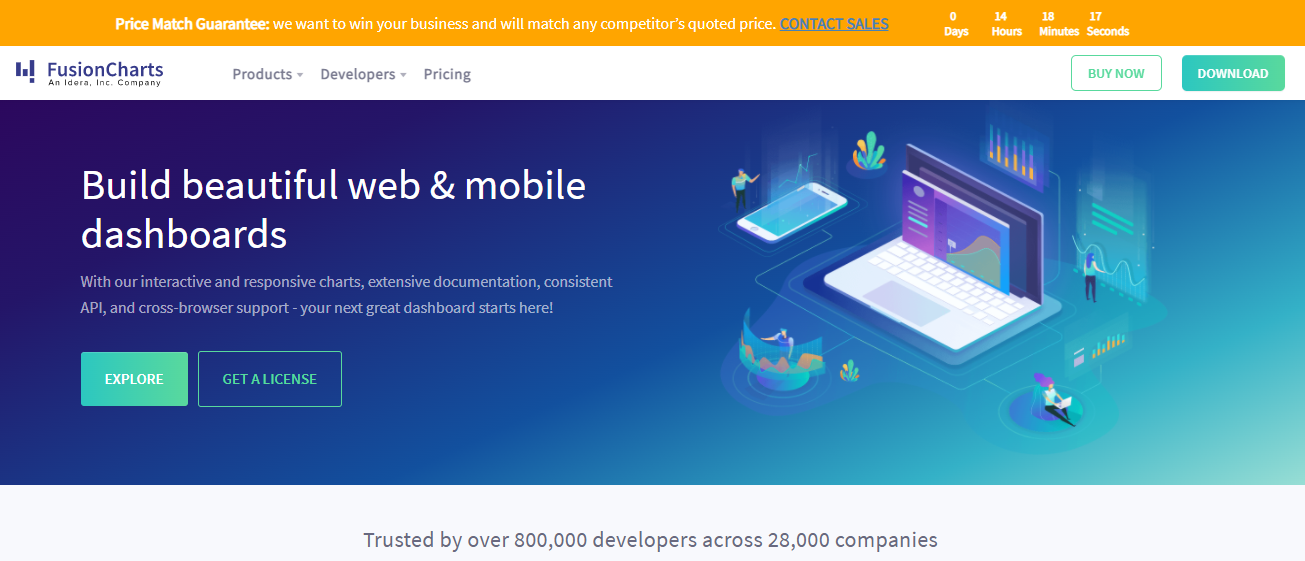 FusionCharts is one platform that stands out for its dependability, simplicity, interaction, and customization. The online platform allows you to build beautiful and interactive charts, graphs, and web/mobile dashboards. It is trusted by over 800,000 developers across 28,000 companies around the world. Here are some reasons developers use FusionCharts, and you should start using it.
Supports A Wide Range Of Chart Types
FusionCharts supports over 100 different types of interactive charts and over 2000 data-driven maps. The platform provides variations of popular charts such as Pie, Area, Column, Line, and Bar charts. Domain-specific charts, such as Treemaps, Heatmaps, Gantt Charts, Marimekko Charts, Gauges, Spider Charts, and Waterfall Charts, are also available in the application. You also get access to 2000+ choropleth maps covering countries, counties, and even cities!
Customization Options
One benefit of using FusionCharts is its numerous customization ability. FusionCharts lets you edit its pre-built templates to achieve a modern look and feel. Every chart, graph, and dashboard template is practically customizable to its tiniest bit. You can adjust every element on your pie chart to suit your needs, whether captions, axis labels, icons, legends, or points color.
Allow Interactions With Users
Interactivity is easily possible with FusionCharts. FusionCharts supports interactivity features such as panning, zooming, scaling, or dragging. This would help you create responsive pie charts and graphs with which your audience can interact for a better experience.
Frequently Asked Questions (FAQs) about Pie Charts
Here are some commonly asked questions about pie charts.
How can I create a pie chart?
To create pie charts, choose any of the pie chart makers listed above and sign up. Then, pick a suitable pie chart template or theme, insert your data, edit chart elements, and create your pie chart.
Does Google have a pie chart maker?
Yes, Google has a pie chart maker available in Google Sheets. The web-based spreadsheet application allows you to create, share and modify your custom pie chart online. To use Google Sheets, simply drag and drop your data, select style, customize chart elements and generate.
What app can I use to draw a pie chart?
To make a pie chart that suits your business, simply choose an online pie chart maker to create a pie chart that suits your needs. Some of these online tools include FusionCharts, Visme, Designhill, and RapidTables. Plus, you can even make a
pie chart in Excel
.
How do you make a 100% pie chart?
First, represent your data set in percentages of the total quantity. Then, choose a preferred online pie chart maker, input your values in order of descending percents, customize elements, add data labels, and generate the chart.
Conclusion
In summary, using pie charts where appropriate is a great addition to any visualization mix. These circular-shaped graphs help you bring life to your data and give your audience an easy job interpreting it. Thanks to the plethora of online pie chart makers available, they are not challenging to create, and you don't require professional design or coding skills. You can use an application like FusionCharts, pick a theme (or template), insert your data, edit to taste, and generate your chart in 15 minutes or less. Ready to get started?
Download FusionCharts
and start a trial today.